Vets to debate how to engage Gen Z in disease prevention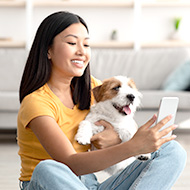 The BVA Congress session will explore the challenges and opportunities for reaching a younger generation of pet owner.
A panel debate exploring how to reach a younger generation of pet owners to prevent disease will take place at London Vet Show on Friday (18 November).

The BVA Congress session, titled Preventative Health and the Gen Z Client – engaging a new generation of pet owners with disease prevention, will explore the issues and opportunities presented by this new, tech-savvy generation.

Chaired by BVA senior vice president Justine Shotton, the session will look at how young people access, digest and share information in new ways.

Joining her on the panel will be Tanya Michelsen, associate director of CM Research; Marnie Brennan, associate professor in epidemiology at the University of Nottingham; Rebekah Ellis, brand and customer manager, MSD Human Health, and Ben Sweeney, founder and CEO of Vidivet.

Dr Shotton said: "The rapid proliferation of telemedicine and the growth of online advice groups on platforms like Facebook are clear signs that clients are looking for additional ways to access veterinary services and advice.

"It is essential the profession understands this growing demand and ensures pet owners have access to accurate information. This session at BVA Congress promises to be extremely insightful, exploring the challenges but also the opportunities for reaching a new, younger generation of pet owner."

The session takes place on Friday, 18 November, 1:50 pm.