Monkeypox patients urged to avoid contact with pet rodents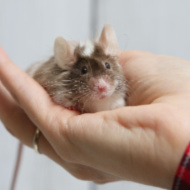 The UKHSA has raised concerns that the virus could get into domestic animals.
Pet owners who develop monkeypox are being advised to avoid close contact with their animals for three weeks.

An assessment by the UK Health and Security Agency (UKHSA) stressed that while the risk to humans remains very low, hamsters, guinea pigs and other rodents could acquire the virus from their owners and spread it to other wild rodents.

According to the government, no cases have been found in pets so far, and the risk to the human population remains minimal.

Speaking to BBC News, Professor Lawrence Young, a virologist at the University of Warwick, said: "The worry is the virus could get into domestic animals and essentially ping-pong between them and humans. If you are not careful you might create an animal reservoir for the disease that could result in it spreading back into humans, and we'll be in a loop of infection."

On Friday (27 May), the UKHSA announced 16 more monkeypox cases in England, bringing the total number of patients to 101. There are also three cases in Scotland, one in Wales and one in Northern Ireland.

The guidance recommends pet rodents that have been in close contact with an infected human should be isolated for 21 days and removed for testing. It states that other pets, such as cats and dogs, should be maintained 'under household isolation with regular vet checks to ensure no clinical signs are observed.'

England's chief veterinary officer, Christine Middlemiss, said: "No cases of monkeypox have ever been suspected or reported in pets in the UK and the risk remains low. We will continue to monitor the situation closely and work with veterinary and public health colleagues, both in the UK and across the world, to manage the animal health associated risks with monkeypox."

Separate advice published by the European Centre for Disease Prevention and Control last week states that rodents 'should ideally be isolated in monitored facilities, complying with respiratory isolation and animal welfare conditions and tested for exposure before quarantine ends.

It adds that euthanasia should only be a 'last resort reserved to situations where testing and/or isolation are not feasible'. Other pets can continue to quarantine at home so long as they receive regular veterinary checks.