Project to tackle sheep scab in Northern Ireland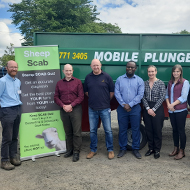 The disease has plagued the sheep farming community for decades.

The Moredun Research Institute has announced a 'groundbreaking' £220,00 project to tackle sheep scab in Northern Ireland.

Starting in July, the project will see farmers, vets, and other industry professionals join forces to tackle this devastating disease.
It follows several years of industry-led activity spearheaded by the Northern Ireland Sheep Scab Group, who's main activity is to consider how to achieve better control of the disease. The group identified lack of research in the field as one of the main stumbling blocks.

The project will be based on Moredun's experience in its current sheep scab control project, which aims to improve the control of the diease by focusing on clusters of farmers within three hotspot regions of England.

The NI project will focus on four main aspects that will inform future research, including:

Farmer meetings: A series of events bringing farmers and vets together to open discussions involving sharing knowledge and concerns about sheep scab.
Funded vet meetings: During which practitioners will be trained to conduct on-farm visits raising awareness of best practice control for sheep scab.
On-farm visits: Where vets will be able to diagnose and treat scab, gathering information about the outbreak and addressing other concerns about flock-health.
Data collection and analysis: Focussing on the prevalence and distribution of scab, evaluating the costs to the economy, welfare and the environment.

Sheep scab has plagued the sheep farming community and their flocks for decades.
It is currently a notifiable disease in NI but, until now, very little research has been conducted into how it spreads and how it can be eradicated.

Project lead Dr Stewart Burgess, an expert on sheep scab, commented: "We aim to get an honest picture of how scab is perceived and dealt with by farmers and vets currently and what needs to be done to change attitudes to control, ensuring the tools available are being used by all parties to ensure flocks are scab free now and in the future.''

The project is being funded by The Biotechnology and Biological Sciences Research Council (BBSRC) as part of its Endemic Diseases of Livestock Initiative.
Image (C) Moredun Research Institute.