BEVA Congress offers practice passes for whole vet team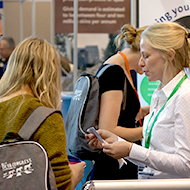 The tickets will save money for practices taking several people to congress.
The British Equine Veterinary Association (BEVA) has announced a new practice pass ticket for BEVA Congress, taking place on 8 – 10 September 2022.

Covering both veterinary surgeons and veterinary nurses, the new practice pass allows practices to bring the whole team to congress, with savings of up to £113 per veterinary surgeon.

Offering a combination of physical and virtual tickets, the pass accounts for all veterinary colleagues – even those staying behind at the practice.

David Mountford, chief executive of BEVA, explained: "We know that not every vet at a practice can attend congress every year because someone is always going to have to stay behind and work.

"So, by offering a mix of physical and virtual tickets in the pass it means those staying at home to look after the practice can still benefit from the live stream as well as the six-month access to all the lectures afterwards.

"Congress always contains plenty of relevant and dedicated content for nurses, so the pass obviously includes nurse tickets too."

Three package options are available for the Practice Passes, depending on practice size. The small practice package is £599, medium is £1,300 and large is £2,600.

Practice Passes will be available to purchase until Monday 1 August, and interested practices can visit bevacongress.org/ for booking and further information.