UK-wide avian flu housing order announced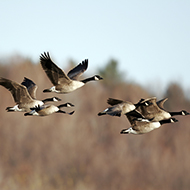 Move follows several confirmed cases across the UK in recent weeks.

New housing measures to protect poultry and captive birds from avian influenza will come into force on Monday (29 November), making it a legal requirement for all bird keepers across the UK to keep their flocks indoors.

The move was agreed by the UK's Chief Veterinary Officers (CVOs) for England, Scotland, Wales and Northern Ireland following several confirmed cases across the UK in recent weeks.

The UK's CVOs are calling on bird keepers to use the coming days to prepare for the housing measures, including steps to safeguard animal welfare, consult their vet and build additional housing where necessary.
Keepers are also being urged to follow strict biosecurity measures to keep their birds safe.

A joint statement issued by the CVOs reads: "We have taken swift action to limit the spread of the disease and are now planning to introduce a legal requirement for all poultry and captive bird keepers to keep their birds housed or otherwise separate from wild birds.

"Whether you keep just a few birds or thousands, from Monday 29 November onwards you will be legally required to keep your birds indoors or take appropriate steps to keep them separate from wild birds. We have not taken this decision lightly, taking this action now is the best way to protect your birds from this highly infectious disease."

On Sunday (21 November), housing measures were introduced to parts of Yorkshire after a number of confirmed and suspected cases of H5N1 avian influenza in the area.

The total number of cases of the disease in the UK currently stands at 17.