FEI launches 'Health for Horses' online campaign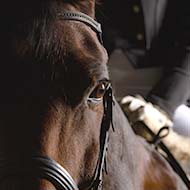 In collaboration with Boehringer Ingelheim and equestrian influencers.

The FEI, with Boehringer Ingelheim, has launched a campaign entitled #HealthforHorses, aimed at improving the daily care and wellbeing of horses.

Running for six weeks, the campaign will use the hashtag to share practical tips on topics including stable management and cleaning, post-exercise cooling, and first aid kits for horses.

These tips will be promoted on FEI's social media platforms, where over three million followers will have the opportunity to view them.

Online influencers in the equestrian world, Lucy Robinson (@footluceeventing), Ashley Harrison (@ashleyharrisoneventing) and Lauren Allport (@laurenallport) will work with experts to create online content for the campaign, reaching even more people.

FEI commercial director Ralph Straus commented on the initiative: "We are pleased to be partnering with Boehringer Ingelheim to deliver the #HealthforHorses campaign, to highlight not just the benefits of horse care for equines but also the therapeutic value that many people gain from daily contact with horses.

"If the pandemic situation has shown the world anything, it is that we need to value our relationships and this also holds true for our relationships with the horse.
"This campaign is about turning the knowledge and expertise that exists within our respective organisations into helpful resources, tips and pointers on horse care for professional, amateur and leisure riders around the world.

"The content, produced by our equestrian influencers, will speak directly to the younger generation of riders and up-and-coming athletes who will play an important role in keeping our community alive and growing."