Kennel Club opens new art exhibition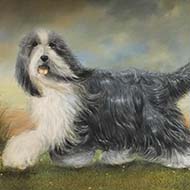 The exhibition showcases the work of Julie Brenan.

The Kennel Club has opened a new public art exhibition, showcasing the work of well-known dog artist Julie Brenan, who sadly passed away last year.

Entitled 'Julie Brenan: A Celebration', the exhibition will be open until April 2022. Based at the Kennel Club's London gallery, the exhibition celebrates Brenan's career, showcasing her work from Cruft's dog show, alongside other commissions.

Brenan painted the Crufts Best in Show winner for 18 years, and was also commission for several paintings for the Royal family including the Queen's corgi's at Windsor Castle, and Prince Michael of Kent's Labrador.

Speaking to the Northampton Chronicle around the time of Brenan's death, Brenan's friend Joyce Gautrey discussed Brenan's process when painting the Crufts portraits: "She would stay with the owners for a few days to get to know the dogs, their characteristics, their eyes, that sort of thing.

"There would always be a panic a few weeks before the Crufts painting needed to be finished.
"She'd be up all night painting to finish it in, in true artist style."
Art collection curator at The Kennel Club Art Gallery, Marianne Walker, commented on the new exhibition: "We are delighted to be showing Julie's work, and to celebrate her life and undeniable talent at our gallery.

"She is a renowned artist, particularly in the dog world, with a strong link to The Kennel Club through her sublime Crufts Best in Show winners portraits.

"This is our first exhibition opening at the gallery since the start of the pandemic and we are very delighted to have something special to show to the visitors, and share a little piece of the dog world through the work of this amazing artist."

The exhibition is now open at The Club Art Gallery from 10am to 4pm, and more information can be found at thekennelclub.org.uk/gallery