Purina Petcare announces continued support for StreetVet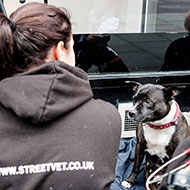 Company will supply veterinary diets for homeless pets
Purina PetCare has announced its continued support for UK charity StreetVet, in a move that will see the firm supply appropriate veterinary diets and specialist food to hundreds of homeless pets.

It comes after the launch of StreetVet's Accredited Hostel Scheme in November 2020, which was made possible by £41,500 of prize money won through Purina's BetterwithPets competition. The Elms hostel in Hemel Hempstead became the first to offer accommodation to owners and their pets with the new accreditation in place.

Now, through the continued partnership, StreetVet volunteers will be able to recommend any specific Purina diet to fit the needs of their patient. The food will be supplied free of charge for the full duration of time it is needed.

StreetVet founder Jade Statt said the move was great news for pet owners experiencing homelessness and the pets they love:

"A pet is sometimes our client's strongest source of non-judgemental support and unconditional love. By giving fundamental veterinary care, we help support that bond and also deliver hope," she said. "We're so pleased to be working with Purina to supply appropriate veterinary diets free of charge for our clients' pets, knowing that can make such a big contribution to wellbeing and longevity."

Head of vet sales UK, Natalie Weatherley, added: "Day-in, day-out Jade and the StreetVet team demonstrate true compassion, putting into action a programme that has improved the health of hundreds of pets and showed their owners that they matter too. We're delighted to be able to continue to support their work, which is built on deep love for pets and belief in the power of the pet-human bond – things we are equally passionate about at Purina too."

StreetVet was founded in 2016, inspired by the incredible bond between a homeless man and his dog. Since its inception, the charity has provided veterinary care to hundreds of street dogs, cats and even a rabbit.