RVC study reveals insights into euthansia of dogs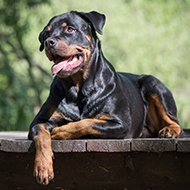 Paper aims to support vets and owners in discussions about end of life care.

A new study led by researchers at the Royal Veterinary College (RVC) has revealed the types of diseases and conditions most likely to lead to death by euthanasia in dogs.

The paper, published in the journal Scientific Reports, shows that spinal cord disorder, incompetence, poor quality of life and undesirable behaviour are among the conditions most likely to lead to euthanasia.
Larger body weights, increasing age and certain breeds of dog were also found to be significant risk factors.
Researchers hope that the study can support veterinary professionals and owners to better prepare for - and come to terms with - difficult discussions about euthanasia.

Study author Camilla Pegram, an epidemiologist at the RVC, said: "End-of-life discussions between veterinarians and owners can be particularly difficult for both parties. This study provides benchmark data for the relative proportion of deaths that involve euthanasia and for the relative impact from demographics and disorders on euthanasia decision-making.

"Owners and veterinary professionals may find it easier to discuss end-of-life options, to reach a final decision and be comfortable with these decisions based on a feeling of broader support from the reported actions of others in similar situations."

Led by the RVC's VetCompass programme, the study is one of the largest ever to use anonymised veterinary health records to understand how dogs die in the UK.
Researchers analysed information from more than 29,000 dogs that died over a year to assess the varying causes of death simultaneously and evaluate their impacts on decision-making.

Researchers found that, in most cases, it falls to the owner and their vet to make the difficult decision to put their dog to sleep. A total of 2,676 (91.5 per cent) deaths in the study involved euthanasia, while 2,487 (8.5 per cent) were unassisted deaths.
They also found that Rottweilers are more likely to die by euthanasia compared to Labrador retrievers as the standard baseline breed. Conversely, smaller breeds like bulldogs, pugs and West Highland white terriers were more likely to have unassisted deaths more likely caused by traumatic injury, foreign bodies and heart disease.
Other key findings from the study were:

the average age at death of euthanased dogs (12.1 years) was older than the average age of dogs that died unassisted (9.9 years)
increasing age at death (years) was associated with increased risk of euthanasia relative to unassisted death, with dogs aged ≥ 15 years showing 5.9 times the risk of euthanasia compared with dogs aged < 6 years
bodyweight (kg) was associated with euthanasia, with dogs weighing 20 to < 30kg at 1.24 times the risk of euthanasia compared with dogs < 10 kg.

Study co-author Dr Dan O'Neill, a senior lecturer in companion animal epidemiology, at the RVC, said: "The decision for many animal owners to put a beloved dog to sleep is often the hardest decision of their life. The moment of euthanasia often lives with owners forever.

"Hopefully, the information from this study can at least help some owners come to terms with the responsibility of helping their dog go with dignity. Understanding that over 90 per cent of other owners also opted for euthanasia may help anyone struggling to make this final and hardest decision."