Government-backed campaign urges public to 'give seals space'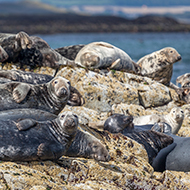 Consideration when out walking is needed to prevent injury and even death.

A campaign has been launched by the Seal Alliance and the government in an effort to reduce the impact that human disturbance can have on seals.
The UK is home to 38 per cent of the entire world's population of grey seals, as well as 30 per cent of the European subspecies of common seals.
There are numerous threats posed to these animals including climate change, toxic pollution, entanglement, collisions with vessels, plastics and other marine debris.
Human interaction, whether deliberate or unintentional, is a growing problem affecting seal populations. Young pups are particularly vulnerable, as their energy is wasted when they are startled by humans, causing them to struggle to haul out of the water in order to rest and digest their food.
Heavily pregnant female seals that are disturbed by humans have been known to stampede across rocks, which can prove fatal to both mother and pup. They also may be unable to build sufficient fat reserves as a result of stress so they cannot feed new-born pups adequately.
The Seal Alliance has created 'Give Seals Space' signs and leaflets, to raise awareness of the ways in which the public can protect these animals. These include:
keeping well away from seals so that they can't smell, hear or see you – using a camera zoom or binoculars to view them

keeping dogs on a lead when in an area where seals might be present

never feeding seals

taking all litter home.
Environment secretary George Eustice said: "Disturbance by members of the public can be detrimental to seals, but this is entirely preventable. I would urge everyone to follow the guidance, give seals the space that they need and respect this vulnerable marine species."