Maxillofacial surgeon treats rare feline TMJ condition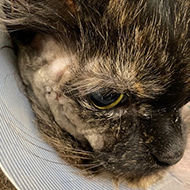 Cat distressed by locked jaw undergoes complex surgery.

A maxillofacial surgeon at Davies Veterinary Specialists in Hertfordshire has performed complex surgery in order to resolve a cat's bilateral temporomandibular joint (TMJ) dysplasia.
The 12-year-old female cat, named Dexy, suffered with an intermittent locking jaw, usually triggered yawning or grooming. She was diagnosed with bilateral TMJ dysplasia – a somewhat rare condition in cats – and referred to the Davies' Dental and Maxillofacial Surgery Clinic for treatment.
Dr José Ruiz said: "Dexy was in distress every time her jaw locked, and she couldn't eat or drink. The only available treatment for this problem is surgery: in order to prevent the mandibles from locking, due to the abnormal elasticity in the joint's capsule and ligament, we needed to remove some bone from her cheek and jaw bones – known as the zygomatic arch and mandible."
A bilateral trigeminal nerve block was performed by the anaesthesia team to reduce potential pain during and after the surgery. Dr Ruiz then approached the zygomatic arch at its ventral aspect.
An incision was made over Dexy's cheek bone so that Dr Ruiz could access it. He cut the bone using a vibrating instrument that can cut bone but not soft tissues, therefore preventing any trauma to blood vessels or nerve structures. The top part of Dexy's mandible was also cut to prevent it from locking on to the remaining cheek bone.
Dexy made a fantastic recovery and was discharged just 24 hours after the procedure.
Image (c) Davies Veterinary Specialists.