Avian influenza identified in Gloucestershire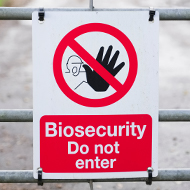 Temporary control zones have been placed around the infected premises.

The Animal and Plant Health Agency (APHA) has confirmed a case of avian influenza in captive birds at a non-poultry premises in Gloucestershire.

In its latest update, Defra reports that a strain of highly pathogenic H5N8 avian influenza has been found at the premises near Stroud.

It reports that 3km and 10km temporary control zones have placed around the infected premises. However, the pathogenicity of the outbreak is yet to be confirmed.
The discovery comes after the introduction of an Avian Influenza Prevention Zone (AIPZ) across Britain following several confirmed cases in captive and wild birds.

The restrictions mean that keepers with 500 birds or more must restrict access to non-essential people on their sites. Workers are also required to change their clothing and footwear before entering bird enclosures, and site vehicles must be cleaned and disinfected daily.

On announcing the measure, the UK's chief veterinary officer, Christine Middlemiss, said: "Public Health England has confirmed that the risk to public health is very low and the Food Standards Agency advises that bird flu poses a very low food safety risk for UK consumers.

"Whether you keep just a few birds or thousands, you are now legally required to meet enhanced biosecurity requirements and this is in your interests to do, to protect your birds from this highly infectious disease."

The AIPZ was introduced after a decision to raise the risk level for avian influenza incursion in wild birds in Great Britain from 'medium' to 'high'. Earlier this month, two separate, unrelated cases of avian influenza were confirmed in Cheshire and Kent.

H5N8 avian flu was also confirmed at a broiler breeder farm in Herefordshire. A small number of wild birds in Gloucestershire, Devon and Dorset have also tested positive for the disease.