MPs to address concerns over puppy smuggling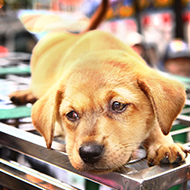 Evidence session to explore how heightened demand for pets may have encouraged crime.

The Environment, Food and Rural Affairs (EFRA) Committee is set to explore continuing concerns around illegal smuggling of pets into the UK in a one-off evidence session.

It comes after figures released by Dogs Trust revealed that prices for some of the UK's most popular dog breeds reached record levels during the coronavirus lockdown in March. The charity fears the price hike is both fuelling the illegal importation of puppies and the cruel and unsanitary conditions that puppies have to endure.

During the session, MPs will question how unprecedented changes in supply and demand for pets may have encouraged crime and the extent to which new laws and campaigns have helped reduce pet smuggling and cruelty.
The session will also explore to what the end of the Brexit transition period will mean for pet imports and the level of support provided to animal charities during the pandemic. Among the contributors will be Dogs Trust veterinary director, Paula Boydon, BVA senior vice president, Daniella Dos Santos, and animal welfare minister, Zac Goldsmith.

Paul Boyden said: "It's shocking to see how much dogs are being advertised for sale online and in particular how prices for some of the most popular smuggled breeds have increased during the coronavirus lockdown.
"While there are many responsible sellers out there, sadly there are plenty who are just looking to tug on the heartstrings and exploit the situation for their own profit."

The evidence session takes place remotely on Tuesday, 24 November, at 2.30 pm. To watch the session live, visit GOV.UK