BEVA backs World Antimicrobial Awareness Week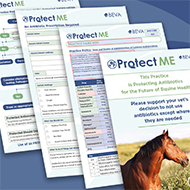 Daily quiz and live debate to encourage best practice in antibiotic use.

The British Equine Veterinary Association (BEVA) has announced an exciting line up of quizzes, live debates and upgraded resources in preparation for World Antimicrobial Awareness Week (18-24 November) and to encourage the continued reduction of critically important antibiotics.

Organised annually by the World Health Organisation, World Antimicrobial Awareness Week (WAWW) aims to increase awareness of global antimicrobial resistance and to encourage best practices to avoid the further emergence and spread of drug-resistant infections.

Throughout the week, BEVA will be running a daily quiz on antimicrobial stewardship, with a vet asking members a question every morning, via video, and providing the answer in the evening.
On European Antibiotic Awareness Day (18 November), BEVA will be hosting a live debate, with leading names from the veterinary and human health sectors giving TED-style talks, which will be preceded by a series of case discussions with a panel of vets.

Mark Bowen, co-opted member of BEVA's Health and Medicines Committee, said: "BEVA remains opposed to overly restrictive legislation on antibiotic use but believes that the membership has an important role to play in maintaining our freedom to prescribe under the cascade.

"It is great to see BEVA making full use of World Antimicrobial Awareness Week to interact with members, encourage healthy debate and make practical information and research highly accessible."

Among the updated resources includes an upgrade to BEVA's award-winning Protect ME toolkit, including new content and refreshed graphics. This free resource for BEVA members aims to help compliance and facilitate the education of horse owners about the importance of antimicrobial stewardship.

David Rendle, chair of BEVA's Health and Medicines Committee, said: "We have made great strides since the Protect ME guidelines were introduced, but multi-resistant bacteria are an increasing problem in equine practice. Affected horses have longer recovery times and their owners are faced with higher costs of treatment.

"Regrettably some multi-resistant infections simply do not respond to treatment, leading to euthanasia. The problem is relevant to all vets and all horse owners, and we must all take responsibility for slowing the development of resistance."

Antibiotic Awareness Week will also see BEVA share a variety of research papers on antimicrobials published in Equine Veterinary Education (EVE) and the Equine Veterinary Journal (EVJ) as well as relevant online CPD resources.