BVNA Council election candidates revealed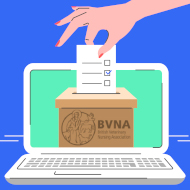 A record number of nominations received for the coming term.

The candidates for the 2020 BVNA Council election have been revealed.

A record number of nominations were received for the coming term, with 14 RVNs competing for the six available places. The nominees are as follows:

Emily Gardiner-Warren RVN
Charlotte Pace RVN
Claire Sincock RVN
Lyndsay Hughes RVN
Susannah Phillips RVN
Craig Tessyman RVN
Lynn Irving RVN REVN
Lacey Pitcher RVN
Lucy Toombs RVN
Zara Livingstone RVN
Laura Richards RVN
Rebecca Winter RVN
Krishna Mistry RVN
Laura Rosewell RVN

"I am delighted with the number of RVNs that have applied to join the BVNA Council and pleased that the number of applicants continues to increase, as this ensures the BVNA can continue to be the strong voice for veterinary nursing," said BVNA president Jo Hinde.

"This year's nominees highlight the diversity that the veterinary nursing career can provide and I'm very much looking forward to learning more about each of them as their individual election campaigns progress."

Voting takes place 1-10 June and runs for both full or student members of BVNA. Members will shortly receive an email from BVNA with details on how to vote.

BVNA has already named its new Student Council Member as second-year diploma student, Molly Vallance. Molly will be ratified at BVNA Congress in October.

For more information about the election, visit the BVNA website.