Surfing therapy dog inspires in viral video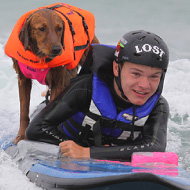 Ricochet helps to calm fears and anxieties during social distancing

A therapy dog named Ricochet has been providing comfort to people in need from a distance during the COVID-19 pandemic, through the re-circulation of a viral video that shows her journey from puppyhood to therapy dog.
The video shows the process of Ricochet's training, which began when she was a puppy, as well as how she inspired the original concept of canine-assisted surf therapy in 2009, after taking part in a fundraiser for Patrick Ivison, who is quadriplegic. The inspiring video now has more than 6.6 million views on YouTube.
More than ten years later, Ricochet is now a certified goal-directed therapy dog and has surfed with hundreds of children and adults with different disabilities, as well as wounded soldiers and veterans with PTSD.
Therapy dogs can be invaluable in a crisis, providing comfort and support to people who need it most. But social distancing measures, which are necessary to prevent the spread of COVID-19, have unfortunately resulted in the suspension of many animal assisted therapy programmes. Non-profit organisation Puppy Prodigies, which Ricochet is a part of, hopes that this video can help inspire people in these difficult times.
Puppy Prodigies runs initiatives that utilise service, therapy and emotional support dogs in an effort to empower people with disabilities, children with special needs and veterans.
Executive director Judy Fridono, who is also Ricochet's guardian, said: "At a time where dogs could be a great valuable resource, we are thinking outside the box in an effort to provide some form of canine therapy to the millions of people around the world who need it."
Image (c) Puppy Prodigies.