ASF virus moves closer to German border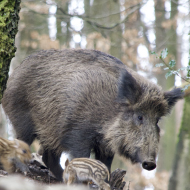 Risk to UK pig population remains at medium

Further African swine fever (ASF) cases have been identified in West Poland, some 40km away from the border of Germany.

According to the National Pig Association (NPA), nine new cases have been discovered in wild boar, following the initial discovery of 20 cases in the Lubuskie Province in November.

The NPA also reports cases in the city and surrounding districts of Zielona Gora, Sulechow, Swidnica, and Nowogrod Bobrzanski. Two cases have been confirmed in the Nowa Sol commune in the Nowosolski poviat, around 40km from the German border.

In November, the State Veterinary Institute in Pulaway confirmed two cases of the disease in the Lubuskie Province, around 75km away from the German border.
Since then, intensive searches of the region have identified 20 cases in wild boar in the same region, as well as one case in the Dolnośląskie Province.
 Polish authorities placed a 5km fence around the infected area, followed by a larger second fence in a bid to contain the virus.

The new cases are of particular concern as the neighbouring province, Wielkopolskie, contains 30 per cent of the total population of pigs in Poland.

The president of the Lubuska Chamber of Agriculture, Stanislaw Mysliwiec, said that he hoped the outbreak could be contained to the infected area and called on local pig producers to comply with biosecurity measures to protect the domestic pig herd.

German pig farmer representative, ISN, said the industry was 'worried and called on producers 'not to panic and to continue to implement biosecurity measures'.

In its latest ASF update, the UK Animal and Plant Health Agency said the risk for the entry of contaminated or infected products into the UK remains at medium. It added that border checks on passengers are 'paramount' and travellers are being strongly advised to avoid bringing any pork products back from affected areas of Europe.

The APHA adds: "The risk of exposure to the pig population in the UK is still highly dependent on the level of biosecurity on individual pig premises but is still considered to be low. We will continue to monitor the situation".