Animals 'at risk' from welfare legislation delays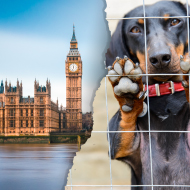 Charity calls upon election candidates to address 12 animal welfare issues

"Disappointing delays" to important animal welfare legislation are putting animals at risk, a leading animal charity has warned.

The warning from Battersea Dogs and Cats Home comes after The Animal Welfare (Sentencing) Bill fell for the second time, as parliament dissolves ahead of December's General Election. The Bill would increase maximum jail sentences for the worst acts of animal cruelty from six months to five years.

Battersea chief executive, Claire Horton, said: "Battersea knows Parliament is wrestling with some of the most pressing issues facing our nation. But improving animal welfare is one thing the country agrees on.

"This Bill has been backed by every major political party and animal welfare organisation, has the support of tens of thousands of members of the general public, and has made its way through much of the parliamentary process already. It will change the future for abused and neglected animals across England and Wales, which, even now, still have the lowest cruelty sentences in Europe. Despite all this, the Bill has been dropped yet again.

She continued: "The country and our animals have waited long enough – it's time for the new Government to prove to the public that it takes animal welfare seriously and passing this long-promised, virtually uncontested Bill is just the start."

Battersea Dogs and Cats Home is seeking views from members of the public about what they think MPs should focus on following the General Election. A survey lists 12 animal welfare issues that the charity believes the new Government should be addressing, including cruelty sentencing, brachycephalic dog breeding and Breed Specific Legislation.

Claire added: "Animals can't speak for themselves, so we need to be their voice. Animal lovers everywhere are supporting us in this fight and are calling upon parliamentary candidates to do the same.
"It's in our hands to make a difference and we want the public to once again, remind the Government what they should be prioritising on behalf of animals across England and Wales."