Feed leftover pumpkin to animals, urges RSPCA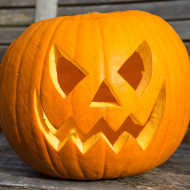 Public urged to give their carvings to garden wildlife

The RSPCA is urging people not to throw away their leftover pumpkin carvings but to give them to wildlife and other animals instead.

According to research by the charity Hubbub, an estimated 15 million pumpkins are carved by UK households every year and not eaten - the equivalent of a bowl of pumpkin soup for everyone in the country.

Many animals can also eat pumpkin, and the RSPCA is calling on anyone who has carved a pumpkin not to throw the carcass away, but to feed it to garden visitors.

"Lots of animals - including wildlife - love to eat pumpkin; so we're urging people not to waste them but to feed them to the wildlife in their gardens or perhaps even to their pets," said an RSPCA spokesperson.

"Squirrels, foxes, badgers and birds all enjoy them, so people could leave chopped up pumpkin outside in dishes for wild animals to eat if they choose. Wildlife can struggle to find food this time of year so some chunks of tasty pumpkin could be very welcome."

The RSPCA advises that, once the spooky season is over, pumpkin carvers should ensure the fruit is appropriate to feed to animals.
"Before feeding leftover pumpkin to any animals, however, it's obviously important to remove tea light holders and any traces of candle wax," the spokesperson added.

"It is always worth checking the inside flesh of the pumpkin too - to ensure it isn't mushy, mouldy, scorched or burned, as this may make it unsuitable for animals - although it would still make good compost!"