Labour calls for review of 'driven' grouse shooting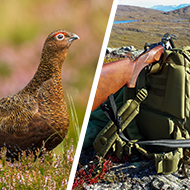 Review 'should look at alternatives and environmental impacts'

The Labour Party has called for a review of 'driven' grouse shooting, to explore its economic and environmental impacts, and consider viable alternatives.

Labour's shadow environment secretary, Sue Hayman MP, called for the review on 12 August - known as the Glorious Twelfth - which marks the beginning of the four-month grouse shooting season.

Driven shooting is the most common mode of hunting grouse and involves a row of people (beaters) walking and pushing the grouse over a line of guns concealed in grouse butts.

Suggested alternatives include simulated shooting and wildlife tourism.

Sue Hayman said: "The costs of grouse shooting on our environment and wildlife needs to be to properly weighed up against the benefit of land owners profiting from shooting parties. For too long the Tories have bent the knee to land owners and it's our environment and our people who pay the price.
"There are viable alternatives to grouse shooting such as simulated shooting and wildlife tourism. The time has come for a proper review into the practice."
Labour's call for a review will be included in its Animal Welfare Manifesto, to be launched at the end of August.
The British Association for Shooting & Conservation responded in a statement: '… The Labour review needs to hear from the people on the ground who maintain grouse moors with massive benefits for conservation and the environment.
'When they've heard the facts we expect Labour to support the massive economic benefits to marginal upland communities that grouse shooting delivers.'