DNA testing schemes approved for English setters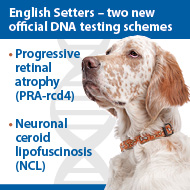 Kennel Club approves PRA and NCL schemes
New DNA testing schemes have been approved for two conditions in English setters, the Kennel Club has announced.

The tests screen for progressive retinal atrophy (PRA-rcd4) and neuronal ceroid lipofuscinosis (NCL).

A number of dog breeds are predisposed to PRA, which is characterised by bilateral degeneration of the retina. This causes progressive loss of vision, eventually leading to total blindness.

There is no treatment for PRA, so dog breeders are advised to use DNA tests to screen their animals and factor the results into their breeding programmes.

NCL is a severe inherited disease that causes gradual degeneration of the nervous system. Signs and symptoms are variable but generally include dementia, loss of vision and epilepsy.

A list of laboratories from which the Kennel Club can record results can be found on its website.