Parliament launches inquiry into puppy smuggling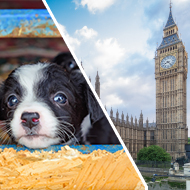 Call for evidence to explore tougher border controls

A parliamentary inquiry has been launched into illegal puppy imports, after a report highlighted flaws in the Pet Travel Scheme (PETS).

The Environment, Food and Rural Affairs (Efra) Committee announced the inquiry yesterday (1 August). It follows on from the committee's 2017 report on pet welfare in England, which found PETS is providing a vehicle for the illegal importation of puppies.

Defra figures show that dog imports to Great Britain rose to 307,357 in 2018, compared to 287,016 the previous year. This is compared to 85,786 imports in 2011, before the pet travel rules were relaxed.

Closing on 23 September, the call for evidence will seek to find out how many puppies are imported illegally, whether UK border controls are sufficient and whether tougher import controls can be implemented after Brexit. The inquiry will also explore how demand for puppies could be met by domestic breeding, and whether the ban on third party part sales will help to tackle irresponsible breeding and puppy imports.

Commenting on the launch of the inquiry, BVA's junior vice president Daniella Dos Santos said: "We are very pleased to see the EFRA committee follow up on its 2017 report findings to launch an inquiry to combat the illegal trade in puppies.

"As vets, we see first-hand the tragic consequences resulting from puppies bred in deplorable conditions and taken away from their mothers at a very young age to undertake long, arduous journeys. They often suffer from disease, health problems and poor socialisation, leading to heartache and financial costs for the new owners.

"Whilst the Pet Travel Scheme has made the transport of pets between the UK and mainland Europe easier and more cost effective, the circumvention of legislation by unscrupulous breeders raises serious health and welfare concerns."

Dogs Trust veterinary director Paula Boyden also welcomed the move.

"We are delighted that MPs have launched this vitally important inquiry as we have long been urging the government to take forward our clear recommendations to overhaul pet travel legislation, including increasing penalties for those fuelling this despicable trade.
"A lack of visual checks at the borders and insufficient penalties for illegally importing puppies mean there is no real deterrent for puppy smugglers capitalising on the huge demand in this country for desirable breeds such as French Bulldogs, Dachshunds and English Bulldogs.
"Great Britain remains a target for dealers because of this demand and the vast sums people are willing to pay for such breeds."