Rescue seals named after royal couple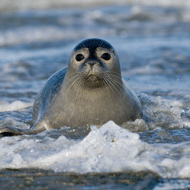 Meghan Mackerel and Prince Herring were born prematurely
A pair of rescued seals have been named 'Prince Herring' and 'Meghan Mackerel', in honour of the royal couple Prince Harry and Meghan Markle.

The seals (not pictured) were rescued separately in June by Vancouver Aquarium Marine Mammal Rescue Centre, where they now reside. Meghan Mackerel was found alone on Sidney Island near Victoria on June 18, with no sign of her mother.

She was underweight, had remnants of her umbilical cord still attached and was still covered in soft fur, suggesting she was born prematurely.

Prince Herring was also born prematurely and was found two days later in a marsh located inland from Crescent Beach. He was still attached to the placenta but his mother was nowhere in sight.

In a statement, the rescue centre urged the public to show 'decorum' when it comes to animals found on the beach.

Assistant manager Emily Johnson said: "Mothers will often leave their pups on shore while they forage for food; they will usually make it back. We ask those who find a seal pup not to touch it and to keep their pets away. Call us, we'll assess the animal, then decide if a rescue is needed."

Members of the public can symbolically 'adopt' Meghan or Herring to help fund ongoing rehabilitation efforts at the centre, which rescues, rehabilitates and releases around 150 animals a year.