Wales praised for collaborative efforts to support animal welfare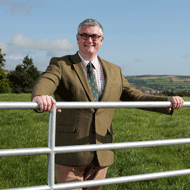 Simon Doherty addresses guests at BVA dinner in Cardiff

BVA president Simon Doherty has praised Wales for its collaborative efforts to support high animal welfare in the midst of Brexit negotiations and beyond.

Speaking at the BVA's Annual Welsh Dinner at Cardiff City Hall, Mr Doherty addressed over 70 guests, including Welsh government representatives, animal welfare organisations and vets.

Shortage Occupation List
Commenting on the successes of the past year, he thanked the audience for supporting BVA's campaign to reinstate vets on the Shortage Occupation List, amid concerns over shortfalls in the workforce.

The Home Office is due to make a decision shortly, following a report by the Migration Advisory Committee, recognising the clear evidence for restoring vets to the list.

"Reinstating vets on the Shortage Occupation List is of course a huge win," he explained, "but it is only one piece of the puzzle when it comes to addressing some of the very real and present challenges facing the Welsh veterinary workforce. Whatever form and timeframes Brexit ends up taking, we will keep working hard to ensure that the veterinary community has a strong voice as post-Brexit policy is negotiated and shaped."

Animal welfare
Turning to animal welfare standards post-Brexit, he also stressed the importance of recognising animal health and welfare as public goods, which he said should be at the heart of new agricultural policies.

"Wales is justifiably proud of its high standards from farm to fork, and with future trade deals on the horizon we must ensure that this reputation and the accompanying consumer confidence in 'Brand Wales' both at home and abroad isn't undermined at any cost," he added.

Disease surveillance
The president also thanked Welsh chief veterinary officer Christianne Glossop and her team, for working closely with vets and industry on managing the threat of animal diseases to public health, trade and wider society. Recent examples cited include monitoring and preventing diseases such as sheep scab, bovine TB and bovine viral diarrhoea.

"Wales is really leading the way when it comes to both innovating and investing in work to monitor and protect against diseases which can have devastating impacts. Effective disease prevention and eradication is a key tool for enhancing economic resilience as well as the global image of 'Brand Wales' in the unpredictable times ahead."

Pet welfare
However, whilst welcoming work to revise welfare codes for several different species, and a recent consultation on third party puppy sales, he said more should be done to tackle the wider problems associated with dog breeding and irresponsible ownership.

"The wider problems include illegal imports of puppies and street dogs from Eastern Europe, backyard breeders and the phenomenon of 'click and collect' puppies who may have poor health status or become abandoned due to poorly planned purchase decisions.

"We know that the Welsh Government is very alive to these matters, and will make sure we continue to have a voice in exploring solutions in the interests of tackling dog welfare issues and seeing a step change in responsible ownership."

Mr Doherty closed his speech by thanking the BVA Scottish Branch for their work to engage members in policy, giving them a strong voice on key issues.
Image courtesy of the BVA