Three lions rescued from 'Europe's worst zoo'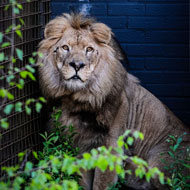 Lenci, Zhaku and Bobby were living in dirty and cramped conditions

International animal welfare charity FOUR PAWS have successfully rescued three lions from a zoo in Albania dubbed 'Europe's worst zoo'.

The lions - Lenci, Zhaku and Bobby - were rescued from Safari Park Zoo, Fier, on the 18 October 2018 and transferred to a temporary home, Tirana Zoo. Then on Tuesday (7 May), the lions began their 3,000-kilometre journey to their final home, the FELIDA Big Cat Centre in the Netherlands.

The team travelled 52 hours to bring the animals to their new home, which is a special care centre for physically and mentally traumatised big cats. The lions are reported to be doing well and enjoying some much-needed rest and relaxation.

Veterinary surgeon Marc Gölkel from the Liebzez Institute for Zoo and Wildlife Research helped with the initial rescue mission and the lions' transfer to the Netherlands. Marc, who gave the lions a medical prior to their departure, said:

"Overall, the state of health of all three has improved since their rescue. Lenci's inflamed eye heals well. The tests have shown that Bobby has kidney problems, and Zhaku has skin inflammation. In addition, all three lions need dental treatment. We will take care of that as soon as they have adjusted at FELIDA."

Safari Park Zoo made headlines in 2018 when images emerged from inside showing the animals living in cramped and dirty conditions. The pictures sparked an international outcry, with the press labelling it as 'Europe's worst zoo' and the 'Zoo from hell'.

FOUR PAWS, which had been investigating the Zoo since 2018, were consequently asked by the Albanian government to help confiscate the wildlife and find the animals new homes. While the initial rescue was extremely demanding, the team were able to successfully free all 11 animals and give them somewhere to live.

Ahead of the transfer of the lions to the Netherlands, the Albanian government put a block on the mission owing to an ongoing court case. The case had been initiated by the former owner of the animals for damage to his property. FOUR PAWS disputed this allegation and fought tirelessly for the lions' release.

Ioana Dungler, director of the wild animals department at FOUR PAWS, said: "It was high time that the Ministry kept its agreement with us. We are relieved that we were finally able to bring the lions to our special care centre. We would like to thank Tirana Zoo for its help, but in the long run, the zoo would not be a suitable home for the animals.

"After years of torture they now finally get the specialised care they desperately need from our experienced team. In FELIDA they can enjoy the sun and grass in their new enclosure."
Image (C) FOUR PAWS