Study reveals new insights into dog tooth fractures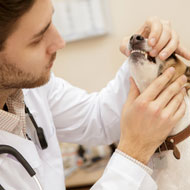 Research follows increased concern over chew toys
A new study has investigated the external forces required to fracture a dog's teeth while chewing.

Published in Frontiers In Veterinary Science, the study comes amid growing concern about the role of chewing on treats and toys in the fracture of large cheek teeth.

Researchers took 24 maximally pre-molar teeth, extracted from dog cadavers, and potted them in cylinders filled with acrylic. The cylinders were placed angles of 60 degrees before the team carried out an axial compression test.

They found that the highest force prior to a tooth fracturing was 1,281 N at an angle of 59.7 degrees. The most common fracture among all samples in the study was a crown fracture, followed by an uncomplicated crown fracture, complicated crown-root fracture and and uncomplicated crown-root fracture, respectively.

The researchers found no significant associations between dog breed, age, weight, impact angle, crown height or diameter, and the maximum force applied to the fracture. Crown height to diameter ratio was the only variable that remained significantly associated with maximum force, suggesting that a decreased ratio can improve resistance to tooth fracture.

'The mean maximum force sustained by the tested teeth prior to fracture was within the maximum chewing capability of the average dog,' the researchers conclude. 'Dogs routinely exposed to hard treats and toys that do not yield significantly below this point might be at increased risk of fracture of maxillary fourth premolar teeth as a result of overexertion during chewing.'

The study was conducted by the University of Pennsylvania in collaboration with Mars Petcare and North Carolina State University College of Veterinary Medicine.