World-first brain surgery performed on kākāpō parrot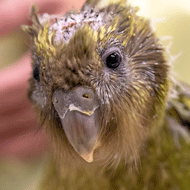 Endangered chick has made a 'remarkable recovery', vets say

Vets in New Zealand have performed world-first brain surgery on an endangered kākāpō parrot, adapting techniques from human medicine.

The wild-hatched chick, now 60 days old, was born with a developmental problem of the skull.

Rangers from the department of conservation's Kākāpō Recovery Team noticed an unusual lump on the bird's skull just after hatching. A CT scan at the Dunedin Wildlife Hospital revealed the plates of the skull had not completely fused.

Professor Brett Gartrell, director of Massey University's Wildbase Hospital, said: "The chick was hatched with a hole in its skull that allowed part of the brain and dura (the tough barrier around the brain) to herniate out."

Led by Prof Gartrell, a team of veterinary surgeons and technicians made an elliptical incision around the area and reflected a flap of skin, allowing them to dissect out the herniated dura.
They were unable to reduce the herniated tissue back into the skull so a small piece of brain and dura were clamped and a small square of synthetic mesh was sutured over the open fontanelle. The mesh graft was then infused with bone marrow.

The chick is said to have made a 'remarkable recovery' and has been paired up with another chick at the Dunedin Wildlife Hospital, to reduce the risk of it imprinting on humans.
Image © Massey University