BSAVA updates OVs on pet travel after Brexit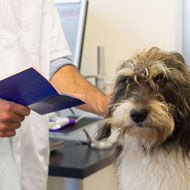 Animal health certificates now available to order
The BSAVA has published updated guidance for official veterinarians (OVs) on pet travel in the event that Britain leaves the EU without a deal.

The update notes that if the UK becomes an 'unlisted' or a Part 2 country, OVs will need to issue EU Animal Health Certificates (AHCs) for pet dogs, cats and ferrets travelling to the EU, instead of pet passports.

The forms are now available and an email has been sent to all qualified OVs containing a link to the AHC order form and notes on how to complete and use AHCs.

The update also includes information on the number of additional staff that have been employed by the APHA and the Centre for International Trade. It notes that stocks of reagents for rabies and export testing have been increased significantly to mitigate potential supply problems.

BSAVA adds that the number of rabies samples being processed at APHA Weybridge has increased from 100 a week to more than 400 week, 'so there is good evidence that pet owners are working with their vets in making preparations for any potential changes to pet travel.'

It says there has been a 10 per cent failure rate for rabies serology samples and therefore vets are being urged to manage pet owner expectations and make them aware that a re-test or vaccine boost may be needed.