Discovery offers hope for anti-cancer therapy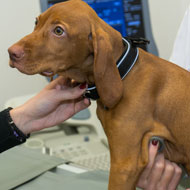 Immunoglobulin E antibodies could fight cancer in humans and dogs

Antibodies that are produced in response to allergens could offer hope for a new anti-cancer therapy in dogs and humans, scientists have said.

Immunoglobulin E (IgE) antibodies are created when the immune system overreacts to an allergen, such as pollen. However, their original purpose is to repel harmful external substances.

A team of international scientists have now developed a 'canine IgE' that targets the EGFR growth factor in cancerous tumours. In-vitro studies found that, in more than 60 per cent of cases, the tumour was destroyed by IgE antibodies.

IgE antibodies build a 'bridge' between EGFR on cancer cells and inflammatory cells, which releases tumour necrosis factors.

The study, published in the Journal of Allergy and Clinical Immunology, offers hope for humans too, as canine and human EGFR are a 92 per cent match.

Lead author Erika Jensen-Jarolim said: "We can therefore hope that we have made an important contribution towards developing a new form of immunotherapy against cancerous tumours.
"A subsequent clinical trial will be conducted in canine patients to validate the results in an international joint initiative before moving to human trials."
Image © M. Bernkopf/Vetmeduni Vienna