Study reveals how Lyme disease spreads through the body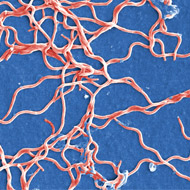 Cell-imaging approach offers new insights

Research by the University of Toronto has revealed how Lyme disease bacteria spreads through the body.

Published in the journal Cell Reports, the study found that a special adhesion protein called BBK32 helps Lyme disease bacteria (Borrelia burgdorferi) cling onto and move along the inside lining of blood vessels.

"It's likely that this property helps the bacteria get to sites where they might be able to persist longer, and this property might therefore make it harder to treat infections caused by these bacteria," explains first author Rhodaba Ebady.

In the study, the team developed a live-imaging-cell based system that provides both molecular and biomechanical insights into how bacteria travels throughout the body.

Using genetically modified strains of Borrelia burgdorferi, the team watched through a microscope as the bacteria - marked with fluorescent green protein - moved across cells in real time.

Their findings suggest that drugs targeting BBK32 could help to prevent or slow down the spread of Lyme disease bacteria to joints, the heart and nervous system.

This would eliminate or reduce the severity of symptoms like heart inflammation, arthritis, facial paralysis and nerve pain, the researchers say.

Furthermore, because BBK32-like proteins are produced by pathogens like Staphylococcus aureus and Streptococcus pyogenes, the researchers believe their findings may also be relevant to other serious conditions, like pneumonia and inflammation affecting the heart.

Looking ahead, the team hope to identify endothelial receptors that BBK32 interact with, assess the biomechanical role of bacterial flagella in vascular interactions, and try to determine how bacteria target specific endothelia associated with different tissues.

More broadly, the team hope their cell-imaging approach could be used to study how other pathogens spread throughout the body.
Image (C) Jamice Haney Carr, Claudia Molins, USCDCP