High iron levels prompt further recall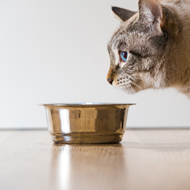 Hill's Pet Nutrition issue precautionary update
Elevated iron levels in pouches of cat food have instigated an update to the Hill's product recall. Production lots of Science Plan Feline 11+ Healthy Ageing Chicken & with Salmon Multipack were found to contain high levels of the mineral.

The update comes after an initial product recall of several other varieties of cat food in May and is again attributed to an error by an ingredient supplier resulting in high levels of iron in certain pouches.

Risks resulting from solely consuming the pouches could include diarrhoea and vomiting.

The Food Standards Agency has published the update and urges owners to return the product to where they purchased it from for a full refund.

In a customer statement, Hill's said: "At Hill's we take great pride in the quality and safety of our pet food products. We deeply regret this situation occurred and can assure you that we are working with our suppliers to further improve product safety procedures and prevent a similar mistake from happening again."

The recalled pouches join six other varieties of feline food originally recalled in May after product testing identified another batch of products incorporating high levels of iron.