Vigilance urged over haemonchus contortus worm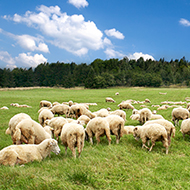 Sheep producers and their vets are being advised to take advantage of free testing.

Sheep producers and their vets are being urged to stay vigilant to the Haemonchus contortus worm following the sudden deaths of adult ewes from two flocks in Devon.

Haemonchus contortus is a tropical/sub-tropical worm that is becoming more common in the UK owing to climate change.

An APHA spokesperson said: "At this point in the summer, be alert to the possibility of haemonchosis in grazing sheep and goats, particularly after heavy rains, as Haemonchus contortus is better able to survive in warmer temperatures in contrast to our more usual gastrointestinal parasites.

"Clinical signs are anaemia, with no diarrhoea, and sub-cutaneous oedema (bottle jaw). There is little immunity to this parasite, so disease can be seen in lambs and adults. APHA VIC Carmarthen can carry out differential staining on Trichostrongyle-type eggs to detect H. contortus eggs."

The Sustainable Control of Parasites (SCOPS) group is calling on producers, vets and advisors to take advantage of free testing for haemonchosis being offered by the APHA through to October. Sheep with anaemia, no diarrhoea, bottle jaw, or where haemonchosis is suspected are eligible for the offer.

To take advantage of the free testing, a vet must fill in the APHA Small Ruminant Submission Form and send this along with a treatment history.

All classes of anthelmintic drugs are effective against H. contortus. Furthermore, closantel – a drug for treating live fluke – will kill the parasite.
More information about haemonchosis can be found in the relevant part of the SCOPS Technical Manual.