Study reveals links between dogs' sense of smell and vision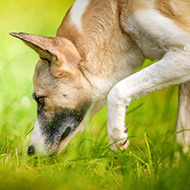 The finding could bring comfort to owners of dogs with incurable eye diseases.

Vets in the US have revealed new insights into how dogs experience and navigate the world around them.

The team from Cornell University, New York, used an advanced neuroimaging technique to reveal links between dogs' sense of smell, their vision and other parts of the brain.

Senior author Pip Johnson - assistant professor at the Cornell College of Veterinary Medicine - said: "We've never seen this connection between the nose and the occipital lobe, functionally the visual cortex in dogs, in any species."
In the study, Johnson and her team performed MRI scans on 23 healthy dogs and used diffusion tensor imaging to locate the dog brain's white matter pathways. They found links between the olfactory bulb, the limbic system and the piriform lobe, as well as never-before documented connections to the spinal cord and the occipital lobe.

Johnson described the connections as "really consistent" adding that the tracts were dramatic in size compared to what is described in the human olfactory system. "More like what you'd see in our visual systems," she said.

Through a 3D modelling process known as tractography, Johnson and her team were able to map and virtually dissect the white matter tracts. A co-author and white matter expert at Johns Hopkins University later confirmed the findings of the digital images.

Johnson said the study supports her experiences with blind dogs, who function remarkably well.

"They can still play fetch and navigate their surroundings much better than humans with the same condition," she said. "Knowing there's that information freeway going between those two areas could be hugely comforting to owners of dogs with incurable eye diseases."

The findings are published in the Journal of Neuroscience.