RNLI lifeguard rescues budgie on a beach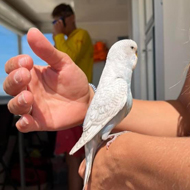 The bird had travelled almost nine miles away from home.

An adventurous budgie who took a four-day trip away from home has been reunited with his owner, thanks to the Royal National Lifeboat Institution (RNLI).

Blue went missing from his home in Wales but days later, he was found on Aberavon beach – almost nine miles away - by a group of schoolchildren.

RNLI lifeguard supervisor Sophie Phillips was called out to the unusual rescue and cared for the bird while her team tried to locate the owner.

After appealing to local vets, it was a Facebook post by the lifeguards that eventually caught the attention of Blue's owner, and the pair were finally reunited.

After the rescue, Sophie said: "The last thing I expected to see was a budgie on the beach, and we were so glad we were able to help reunite the bird with its owner'.

Grateful for the efforts of Sophie and the lifeguards, Blue's owner made a charitable donation to the RNLI.
Image (C) RNLI.