DNA study suggests potential for virus-resistant poultry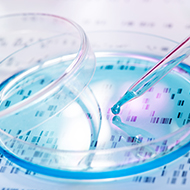 Possible genetic variants linked to innate immunity of infections.
A study from the Roslin Institute has highlighted possible gene variants linked to innate immunity against damaging viral infections.

Using this information, researchers have suggested that poultry could be bred to resist viral infections, with findings pointing to possible genetic variations that determine a bird's response to infection.

Analysing DNA from chickens discovered to be naturally more resilient or prone to bird flu, Marek's disease, infectious bursal disease and infectious bronchitis virus, researchers using computer analysis to search for variations in the genes linked to the production of immune proteins.

Comparing their findings with a standard reference genome of chickens, the researchers highlighted 60 genetic variations likely to influence resistance or susceptibility to the infections.

Joshua Mountford, lead author of the study, said: "Viral infections are a significant challenge for the poultry industry as well as impacting on animal welfare.

"Determining genetic factors that enable birds to present a robust resistance to infection could deliver a host of benefits."

Dr Jacqueline Smith, corresponding author of the paper, highlighted the potential of the findings: "Our study is a good first step to understand the genetic factors influencing innate immunity to a range of viral infections in poultry.

"The variants we have discovered merit further investigation and could be valuable in breeding chickens resistant to disease."

Published in Animal Genetics, the full paper is available to read here.