Latest PAW Report highlights pet acquisition concerns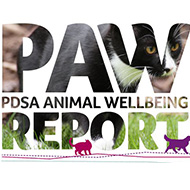 2022 report reveals more pets imported and less adopted.

Veterinary charity PDSA has released its 2022 PDSA Animal Wellbeing (PAW) Report, revealing a concerning shift in the acquisition of pets, with more owners choosing to import pets from abroad.

In the report, PDSA revealed that six per cent of owners said that their dog was imported - an increase from four per cent in 2021, and three per cent in 2020. This equates to 640,000 imported dogs in 2022.

Similarly, the number of cats imported has risen to five per cent in 2022, up from two per cent in 2020 and one per cent in 2021.

Commenting on the concerning increase in pet imports, the report highlighted the increased risk of the importation of exotic diseases and parasites, as well as the rise in owner preference for pets who have undergone cosmetic surgeries that are illegal in the UK, such as de-clawing, ear cropping and tail docking.

The data also revealed a drop in the number of owners acquiring their pets from rescue and rehoming centres. The proportion of dogs owners who rescued their pet decreased from 18 per cent in February 2020 to 14 per cent in 2022.

Likewise, the proportion of cat owners who acquired their pet from a UK rescue centre decreased from 35 per cent in August 2020 to 27 per cent in 2022. The number of UK rabbits acquired from a rescue centre also fell from 19 per cent in August 2020 to 14 per cent in 2022.

Richard Hooker, PDSA director of veterinary services, said: "The 2022 PDSA Animal Wellbeing (PAW) Report provides us with a timely review of the state of the welfare of the nation's pets.

"The findings provide a robust evidence-base, and impact measure, for any activities or initiatives that tackle these issues, both for PDSA and those organisations we work with, from the veterinary professions and across the animal welfare sector, to local, devolved and central Government.

"Sadly, many of the welfare concerns that have been highlighted by the PAW Report over the last 12 years remain, demonstrating a worrying lack of owners understanding of the needs of their pets.

"Alongside this, we are seeing emerging issues such as behavioural problems potentially related to a lack of socialisation opportunities during the pandemic."

As a possible result of the COVID-19 pandemic, PDSA found that behavioural problems are remaining a concern, with 1.6 million dogs showing signs of fear, growling or biting, and another 1.3 million displaying these behaviours toward unfamiliar dogs.

Additionally, 44 per cent of cats are showing behaviours indicative of stress.

Other key findings from the report include the number of pet dogs, cats and rabbits in the UK, 10.2 million, 11.1 million and one million respectively, as well as shedding light on the current state of companionship, diet and obesity, environment, preventative health and behaviour in UK pets.

A free webinar to discuss the findings of the report is set to take place at 7pm on Wednesday 6 July. Hosted by PDSA senior veterinary surgeon Sean Wensley, 'The PAW Report 2022 – How healthy and happy are our post pandemic pets?' will explore implications for pet wellbeing in the UK. Anyone interested in attending can sign up via this link.
Image (C) PDSA