Nominations open for Sir Colin Spedding Award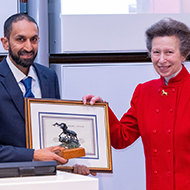 Award celebrates unsung equine heroes.

Nominations have opened for the National Equine Forum's (NEF) Sir Colin Spedding Award 2023.

Introduced in 2013 in memory of the late Sir Colin Spedding, the award recognises an unsung star in the equine world annually, one who has never yet won any awards in recognition of their work.

Founding chairman of the NEF, Sir Colin chaired the event for 20 years until his death in 2012, and as his commemorative award suggests, he advocated for representatives of all areas of the equine community were welcomed and supported at the NEF.

Jane Holderness-Roddam, the Sir Colin Spedding Award sub-committee Chair, commented: "During the past decade the Sir Colin Spedding Award has become one of the most coveted accolades within the equestrian sector.

"Not least because it gives those who have otherwise hidden their light under a bushel, the time to truly shine."

To nominate an individual for the Award, visit the NEF website and write no more than 100 words explaining why your chosen candidate should be considered.
Nominations must be made before 31 July 2022, and anyone submitting a nomination should ensure that they have read the checklist beforehand.
IMAGE (C) Craig Payne Photography