Appeal for owners of stray birds in Guernsey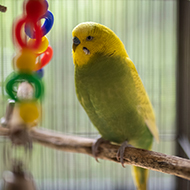 Four tropical birds have been rescued this month on the island.
The Guernsey Society for the Prevention of Cruelty to Animals (GSPCA) has put out an appeal to find the owners of four stray tropical birds.

Coming into the charity's care this month, all the birds have 21 days to be claimed by owners, after which they will be put up for adoption.

Two green budgies were found this month, one at Courtil Olliver, Castel on 22 June, and another on Rectory Hill on 23 June.

A canary was found on Nocq Road on 8 June, and Senegal parrot, with the ability to do several tricks, was rescued at Vazon.

The GSPCA, which helps over 3,000 animals per year,

Steve Byrne, GSPCA manager, commented: "We currently have two stray budgies, a stray parrot and a stray canary.

"With the warm weather it is highly likely these birds have escaped through an open window or door that has been left open accidentally.

"If you have information who the owner might be or if you think they could be your birds you can call the GSPCA on 257261.

"We have nicknamed the budgies Olliver and Rupert, the canary Tweetie and the very funny, chatty, playful Senegal parrot is called Vazon."

Further information about the birds, including images, can be found here.