RSPCA PawPrints awards set to honour public bodies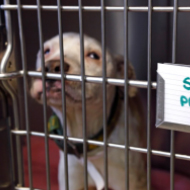 Awards recognise organisations going the extra mile for animals amid the rising cost of living.
A leading animal welfare charity is inviting applications for an awards scheme recognising public bodies that go above and beyond to deliver high animal welfare standards.

Now in its 15th year, the RSPCA PawPrints scheme recognises local authorities, housing providers and other public bodies that offer a lifeline for animals and their owners.

Split into five categories – housing, stray dog services, animal activity licensing, contingency plannine and kennelling – the awards recognise organisations that provide services above the minimum standard.

The launch comes as research by the RSPCA suggests around one in five pet owners (19%) are concerned about feeding their pets amind the rising cost of living.

The award criteria includes proactive work to encourage responsible pet ownership, discounted pet microchips in the social housing sector, and collaborations with local animal welfare charities.

Awards also recognise readiness for crisis situations, such as flooding, and the welfare standards at kenneling facilities used by local authroties when boarding dogs.

Lee Gingell, RSPCA public affairs manager for local government, said: "These are tough times for humans and animals alike - but many public bodies are doing huge amounts to help, and we want to celebrate that.

"The RSPCA is delighted to again launch our prestigious PawPrints awards, which showcase the amazing work local authorities, housing providers and other public bodies do for animal welfare in their communities."

He added: "Too often, these services are sometimes underappreciated. But these services are likely to offer a lifeline to people and pets; and in these tough times, the prioritisation of welfare is more important than ever.

"From stray dog services, to contingency planning, to ensuring the social housing sector supports owners, we can't wait to help public bodies once again prove to their users that they care about animals and have the services to match."

Applications close on 19 August 2022, with bronze, silver or gold awards up for grabs, depending on levels of service provision. Council officers and other public sector staff are invited to apply via the RSPCA website.