Charity reports stark rise in unwanted rabbits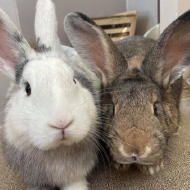 The RSPCA has seen a 49 per cent increase in rabbits coming into its care.

Animal charity RSPCA has reported a stark rise in the number of unwanted and abandoned rabbits coming into its care.

The organisation says that it saw a 49 per cent rise in rabbit admissions during the first half of 2022 and is building additional accomondation to keep up with the high demand.

The figures come at the start of Rabbit Awareness Week (RAW) (27 June – 1 July), of which this year's theme is 'Room for Rabbits'.
It also follows research that 38 per cent of vets believe environment is the most neglected welfare issue.

One RSPCA centre in County Durham is taking in rabbits for the first time, having previously looked after horses. The team at RSPCA Felledge are constucting five new runs to take in five bonded pairs of rabbits, along with further enrichment and soil-filled pots to allow for digging.

Equine manager Lisa Paulin said: "We are more used to horses and stables than rabbits and runs but we are fortunate to have a lot of space here so we knew we had to adapt our facilities to help in any way we can to help with the huge influx of animals in our care.

"We followed RSPCA guidelines on housing and all the runs are 3m x 2m x 1m and will have lots of lovely things for the rabbits to do to make sure they are happy while they are with us before they find their forever homes."

The RSPCA Kent Isle of Thanet branch has expanded its living quarters to include six custom shelters with beach house themes and sizable runs. The branch can currently accept 12 bonded pairs and is investigating whether they can extend the number to accommodate additional rabbits.

Branch manager Emily Mayer said: "We are full and have more rabbits waiting to come in, we are seeing if we can extend our accommodation to fulfil the growing need we are seeing for rabbits.

"We have cats and dogs on our site too, but most of the calls we are receiving from the inspectorate as well as from members of the public are about rabbits. Circumstances are changing for people financially and owners don't realise how long a commitment taking on a rabbit is as well as how expensive they can be.

RSPCA rabbit welfare expert Dr Jane Tyson called on potential rabbit owners to do their research before taking on a new pet.

"Rabbits can live for a long time and can be costly, they need much more than just a hutch at the end of the garden - they need space, companionship and enrichment to live happy and healthy lives," she said. "If you do feel able to commit to a pet or feel you could take a rabbit in for fostering please contact your local RSPCA centre to help."
Image (C) RSPCA.