Police dog awards open for nominations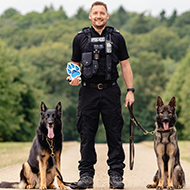 Thin Blue Paw Awards celebrate serving and retired police dogs.

Nominations have opened for the Thin Blue Paw Awards, celebrating the lives of working and retired police dogs.

Run by the Thin Blue Paw Foundation, which provides support for serving and retired police dogs across the UK, the awards highlight the dogs' work and achievements, and anyone who knows an inspiration police dog is encouraged to submit their story for consideration.

Kieran Stanbridge, Thin Blue Paw trustee and event organiser, commented: "Our inaugural awards last year were a huge success and we received more than 100 nominations for incredible dogs.

"It was an honour to meet the winners and hear their inspiring stories of heroism and dedication and we can't wait to see this year's nominations although we know it'll be very difficult to choose just five winners again."

The award categories are:


Outstanding Bravery – for a serving police dog who has shown extraordinary bravery in the line of duty.
Lifesaver

– to celebrate a serving police dog whose work was invaluable in a life-threatening incident, for example locating a vulnerable missing person.

Crime Fighting Duo – for a serving police dog and handler team who are constantly achieving outstanding operational results.
Rising Star – to celebrate the achievements of a newly licensed serving police dog.
Lifetime Achievement – to celebrate a retired police dog who made an exceptional difference during their service.


Encourage people to submit a nomination, Kieran said: "If you know a dog handler or police dog who has shown outstanding bravery, has committed their life to fighting crime and keeping the public safe, or has gone the extra mile in the line of duty, please nominate them today!"

Nominations can be made on the Thin Blue Paw website, and will be open until 1 July 2022. The winners, selected by a panel of judges, will receive their awards at a special ceremony in September, with plenty of canine and human guests invited.
Image (C) Thin Blue Paw