Study reveals how dogs perceive objects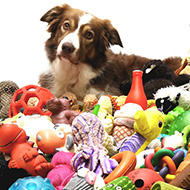 Researchers suggest dogs experience multisensory mental images.
A new study has shed light on how dogs think about their toys, suggesting that dogs experience a multisensory mental representation of objects.

Researchers from the Family Dog Project, led by ELTE University, Budapest, found that dogs have 'multi-modal mental image' of their familiar object – when thinking about an object, they imagine the object's different sensory features.

Three Gifted Word Learner (GWL) dogs – those who can learn the name of objects – and 10 typical family dogs were trained to fetch a toy associated with a reward, using treats and praise.

Following this, researchers then conducted an experiment to observe how the dogs searched for the targeted toy, placed among four other toys.

This was done both with the lights on and with the lights off, and all of the dogs were successful in selecting the trained toys in both conditions, though it took them longer to locate the toys in the dark. Detailed behavioural analysis revealed that all of the dogs sniffed more in the dark.

Another experiment was then conducted with the GWL dogs to discover whether hearing the verbal label of the object activates a multisensory mental representation. The GWL dogs were tested on their ability to recognise objects based on their name under both light and dark conditions.

The success rate in recognising the toys was the same under bother conditions, but the search behaviour used did, suggesting that the dogs could use different sensory modalities flexibly.

Published in Animal Cognition, the study reveals that when dogs play with a toy, they pay attention to its different features, and register the information using multiple senses.

The full paper can be accessed via this link, and is open access.