BVA opens applications for committee vacancies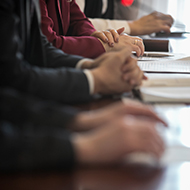 BVA encourages members to 'help shape the future of the profession'.
The British Veterinary Association (BVA) is inviting members to join BVA committees, with applications open for several vacancies.

Members with a range of experience and professional expertise are being sought, with opportunities to get involved with BVA Council, advisory panels, branch councils and other committees.

All of the positions are voluntary, and all work carried out by the successful applicants will count towards their CPD.

One vacancy is available on BVA Council for a recent graduate member, who can provide the Council with the views of their peers, and actively participate in discussions and decision-making.

Four spaces are available on the Policy Committee, and members from all sectors of the profession are invited to submit an application.

MRCVS members are also invited to submit applications for the Ethics and Welfare Advisory Panel, which currently has two vacancies. The successful applicants will be chosen for their expertise in animal welfare science, ethics and law.

BVA president Justine Shotton said: "If you are keen to help shape the future of the veterinary profession, want to share your views on the topics which are important to you and your colleagues, and have the expertise and passion to help drive forward change, we want to hear from you."

There are also opportunities to join the Member Benefits and Events Committee, with four spaces available, including one for a student member.

The BVA has also said that a number of opportunities are available across its Wales, Scotland and Northern Ireland branches.

"This is an exciting opportunity for individuals who want their voices to be heard to get involved in shaping BVA policies," Dr Shotton continued.

"I'd urge anyone interested to apply for these positions, which are sure to be both rewarding and highly interesting. We look forward to hearing from you."

The deadline for applications is 9am on Monday 18 July 2022, and all applications will be assessed in August. Further information about the job descriptions and person specifications can be found at bva.co.uk/committee-vacancies.