Blue Cross names new veterinary services director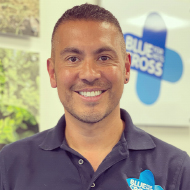 Dr Paul Manktelow joins the charity in its 125th year.
Animal charity Blue Cross has named Dr Paul Manktelow as its new director of veterinary services.

A graduate of the Glasgow Vet School, Dr Manktelow has a wealth of experience across the veterinary, business and media sectors. He also has an MSC in Wild Animal Health from the RVC and an Executive MBA from London South Bank University.

Before joining Blue Cross, Dr Manktelow was principal of vet services at the PDSA, responsible for operational delivery and strategic service planning across their hospital network. He is also a TV personality, public speaker and presenter of the lifestyle podcast, 'The Consult Room'.

Commenting on his appointment, Dr Manktelow said: "I am really excited to be joining Blue Cross in this symbolic year which sees the charity celebrating its 125th anniversary.

"The profession is facing significant challenges and yet the demand for charitable veterinary care has never been greater. I'm passionate about people and eager to support the clinical teams whilst we work together to develop innovative and sustainable ways in which we can meet this societal demand for pets in need.

Blue Cross is a unique welfare charity in that it helps pet owners across a number of areas, and I'm excited to scope out opportunities to collaborate and add veterinary expertise to these vital services."

Image (C) Blue Cross.