Bat study reveals influences on brain organisation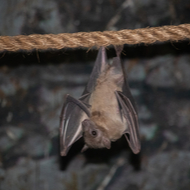 The species' brains are highly specialised for echolocation.
Scientists have demonstrated how Egyptian fruit bats have brains that are highly specialised for echolocation and flight.

Researchers from the University of California, Davis (UC Davis) and UC Berkeley in the United States mapped the full motor cortex of the bats' brain, and found that motor areas of the cerebral cortex were dedicated to sonar production and wing control.

Using electrodes to stimulate various areas of the motor cortex in anaesthetised bats, researchers determined muscle and limb movements, countering traditional theories that motor cortex organisation assumes individual muscles are represented in the motor cortex.

Professor Leah Krubitzer explained: "What we have found instead is that brain areas represent common synergies of muscles, rather than individual muscles."

In the study, the researchers said: "We found that movement representations include an enlarged tongue region containing discrete subregions devoted to generating distinct tongue movement types, consistent with their behavioral specialization generating active sonar using tongue clicks.

"We also found a novel degree of coactivation between the forelimbs and hindlimbs, both of which are involved in altering the shape and tension of wing membranes during flight.

"Together, these findings suggest that the organization of motor cortex has coevolved with peripheral morphology in bats to support the unique motor demands of flight and echolocation."

Examining how the bats' brains were organised with complex movements across various regions of the body, researchers displayed evidence for the influence of evolution and development on brain organisation.

Krubitzer added: "Looking at brain organization in a wide variety of mammals helps us better understand our own brains.

"When we can look across species, it becomes a really powerful approach for making extrapolations to the human condition."

Published in Current Biology, the study can be accessed here - the full text is placed behind a paywall.