Pug no longer 'typical dog' from a health perspective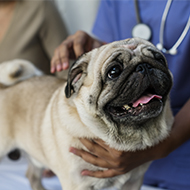 RVC research highlights the health crisis experienced by UK pugs.

New research from the Royal Veterinary College (RVC) has revealed that pugs can no longer be considered 'typical dogs' from a health perspective.

Led by the RVC's VetCompass programme, the study compared the health of random samples of 4,308 pugs and 21,835 non-pugs to document and fully understand the serious health crisis in UK pugs.

Dr Dan O'Neill, associate professor in Companion Animal Epidemiology at the RVC and lead author of the paper, explained the need for the study: "Although hugely popular as pets, we now know that that several severe health issues are linked to the extreme body shape of pugs that many humans find so cute.

"It is time now that we focus on the health of the dog rather than the whims of the owner when we are choosing what type of dog to own."

The findings of the study showed that pugs were 1.9 times more likely to have one or more disorders recorded in a single year in comparison to non-pugs, highlighting the breed's overall bad health.

Out of the 40 most common disorders across groups of dogs, pugs were found to have a higher risk of 57.5 per cent of the disorders, and a lower risk of just 17.5 per cent of the disorders.

Brachycephalic obstructive airway syndrome (BOAS) was identified as the disorder with the highest risk in pugs. Compared to non-pugs, pugs were almost 54 times more likely to have the condition.

RVC veterinary student and co-author of the study, Jaya Sahota, said: "Demographic statistics from this Pug study show that the current Pug population is predominately young with a wide variety of health disorders recorded.

"This leads to serious concerns of an impending brachycephalic 'health crisis' as this young population ages.

"Widespread ownership of Pugs with extreme facial and body conformations should be discouraged until measures are in place to ensure stricter and more acceptable breed standards."

Although pugs were found to have such severe health issues that the breed can no longer be considered 'typical' from a health perspective, there were a few conditions that the breed had a reduced risk of, including heart murmur, aggression and wounds.

As the RVC notes, pugs' lack of aggression and gentle temperament may make them appear to be a good pet from a human perspective, the quality of life that a dog will experience should be taken into consideration.

British Veterinary Association president Dr Justine Shotton added: "These statistics are shocking but, sadly, they will not be surprising to our members.

"Vet teams see pugs with these distressing health problems – from breathing difficulties to eye ulcers and painful spine abnormalities - in veterinary practices across the UK on a daily basis.

"This study clearly demonstrates how it is the extreme characteristics many owners find so appealing, such as squashed faces, big eyes and curly tails, which are seriously compromising pugs' health and welfare and often result in a lifetime of suffering.

"While these extreme, unhealthy characteristics remain, we will continue to strongly recommend potential owners do not buy brachycephalic breeds such as pugs."
Published in Canine Medicine and Genetics, the study is available to read online here.