Companionship is main motivation for dog ownership, study reveals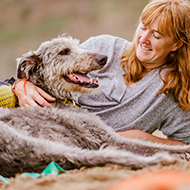 Dogs Trust study explores reasons for UK dog acquisition.

A new study carried out by Dogs Trust has revealed that the most common motivation for dog ownership in the UK is companionship.

Although dogs are hugely popular in the UK, there is a gap in published evidence exploring owner motivation for dog ownership, and Dogs Trust hoped to address this gap.

The findings of the study could be used to develop interventions to support owners' decision-making when thinking of getting a dog, and to help ensure that potential owners have realistic expectations of ownership.

Using both quantitative and qualitative research, researchers found that eight in 10 owners said that companionship for themselves was the reason they got a dog.

From the findings, other popular reasons for dog ownership were cited as to help a dog in need (51.1 per cent of current owners) and to facilitate exercise (48.2 per cent of current owners).

Dogs Trust researchers Katrina Holland and Rebecca Mead commented on their study: "Despite the huge popularity of dogs in the UK, there is a lack of published evidence exploring exactly why people get dogs.

"As the UK's leading canine charity, we wanted to address this gap and, while there are no big surprises from what we found, we're really glad to have some solid evidence about why people choose to bring a dog into their life."

From the findings, researchers identified three key themes in motivation for dog ownership, the first of these being self-related ownership – the ways in which owners perceived dogs to benefit and enrich their lives.

Social-based motivation was the second broad theme identified, with motivation for getting a dog influenced by others, either by other people, or by dogs.

The third theme found was dog-related positive affect-based motivation, with the role of previous experiences owning or meeting dogs shown to be important in motivating the decision to own a dog.

A summary of the report can be accessed online here, and the full report can be read in Frontiers in Veterinary Science journal.
Image (C) Dogs Trust