Students excel at UFAW conference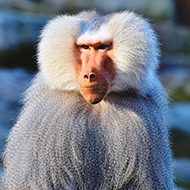 An undergraduate student from Hartpury University won the best speaker prize.

Students from Hartpury University and other institutions presented their researching findings at this year's Universities Federation for Animal Welfare (UFAW) conference, with a student from Hartpury University awarded the prize for best speaker.

The online conference, which took place on Wednesday 27 April, brought together undergraduate and postgraduate students to share the findings of their animal welfare research.

Students had the chance to share and gain knowledge, and the undergraduate students benefitted from the opportunity to find out more about the kind of research carried out at postgraduate level.

Winner of the best speaker prize, Hartpury undergraduate student Anna Pili (BSc (Hons) Animal Behaviour and Welfare), presented her study: 'An exploration of potential causal factors of alopecia in a zoo-housed group of Hamadryas baboons'.

The project explored the differences and occurrences of self-plucking and social plucking amongst captive non-human primates, and Anna shed light on this as-yet poorly understood area.

Dr Wanda McCormick, head of Animal and Agriculture at Hartpury University, commented on the event: "This year's student conference was a huge success. We had some amazing talks from students from Hartpury University, Writtle University and Brooksby Melton College and it was fabulous to see the variety of areas that students have been investigating.

"We were even more pleased when the best speaker prize was awarded to one of our own students, Anna Pili."

To open the conference, Walter Veit, philosopher and cognitive scientist from the University of Cambridge and University of Sydney gave a topical keynote speech on the new Animal Welfare (Sentience) Bill.

Research from students was then presented, with highlights from Hartpury University PhD students Georgia Oaten and Polly Doodson, who presented on the interplay between zoo visitors and macaques, and public perceptions of 'meet and greet' animal experiences respectively.

Undergraduate student Martha Hurrell (BSc (Hons) Human-Animal Interaction) assessed the relationship between dairy farmers and their herd. Martha explored the potential effects on dairy farmers' mental wellbeing, and the welfare of the cattle.

Many other exciting research topics were presented at the conference, including an analysis of horse behaviour when presented with a human emotional cue, The Kennel Club height classification and retirement age in agility dogs, and an investigation into the interactions of white rhinos at Colchester Zoo – with specific reference to calves.
Image (C) Hartpury University