RVC appoints vice principal to champion EDI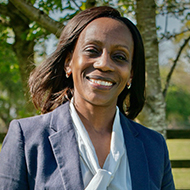 Dr Christine Thuranira-McKeever will help strengthen the College's commitment to inclusivity.

The Royal Veterinary College (RVC) has announced the appointment of Dr Christine Thuranira-McKeever as its new vice principal for equality, diversion and inclusion (EDI).

In a press release, the RVC said the new role 'will further strengthen the RVC's commitment to promoting and enhancing an inclusive environment'.

Working alongside other members of the College's Execuitive Committee, Dr Thurania-McKeever will lead the development and implementation of a strategy relating to all aspects of EDI.

Commenting on her appointment, Dr Thuranira-McKeever said: "I'm delighted to be taking on this role and building on the important work taking place across the RVC to promote equality, diversity and inclusion. These values are critical to our success as an institution and we must champion them in all our activities and continually consider and challenge approaches and practices.

"I look forward to further advancing the RVC's commitment to EDI and to working with colleagues to ensure that all our work is underpinned by values that allow our students and staff to feel equally valued and empowered to thrive."

Dr Thuranira-McKeever has significant experience in EDI, having been involved in different aspects of this work for over 10 years at the RVC, including chairing its first Athena SWAN self-assessment team, achieving Bronze status. Athena SWAN is a national charter mark that recognises gender equality achievements in higher education.

With an academic background in agricultural economics, she spent her early career working in international development and research in Africa and Asia. Her involvement in international institutional partnerships that promote distance learning students, particularly those from low-income countries, has aided in collaborative projects with overseas veterinary schools and the RVC's EDI programmes and activities.

Professor Stuart Reid CBE, president and principal of the RVC, said: "I am delighted that Dr Thuranira-McKeever is stepping up to this critical role at the RVC. Her leadership in addressing issues of equality, diversity and inclusion within our community has been significant and sustained.
"The creation of this senior position was the first and priority recommendation of the recent Racial Equality Task Group chaired by Professor Dan Chan, and I am delighted the subsequent recruitment process identified Christine as the successful candidate."
Image (C) RVC.