Dr Peter Rossdale to be commemorated at BEVA Congress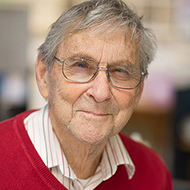 Two new initiatives will be introduced in his memory.

Dr Peter Rossdale, founder of Rossdales Veterinary Surgeons, equine clinician and scientist, will be commemorated by the British Equine Veterinary Association (BEVA) at their congress this year.

Dr Rossdale, who passed away on 28 November 2021, will be commemorated with an additional plenary lecture in his name, and a new award.

Covering aspects of evidence-based veterinary medicine, of which Dr Rossdale was one of the first veterinary professionals to embrace, the Dr Peter Rossdale Memorial Lecture will become an annual fixture at the event.

Also introduced this year will be the Peter Rossdale EVE Literary Prize, given to the author of the best clinical research paper in the Equine Veterinary Education (EVE) journal.

The first Dr Peter Rossdale Memorial Lecture will explore 'evidence in perinatology', which was a subject Dr Rossdale felt passionately about. Given by Professor Celia Marr, the lecture will also recall key aspects of Dr Rossdale's life and legacy.

Professor Marr commented: "I am extremely honoured, and daunted to speak about current evidence in perinatology at BEVA congress this year.

"Peter was a passionate advocate of using data from clinical practice to advance veterinary science and it seems very fitting that the first lecture in his honour will be focussing on how evidence can inform practice in perinatology, an aspect of equine practice to which he dedicated the majority of his outstanding career."

Full details of the BEVA Congress programme, which will take place in Liverpool from 8 – 10 September 2022, can be found at bevacongress.org – along with booking details.
Images (C) BEVA